Whitepaper Medical Device Marking
Marking medical devices can be challenging for medical device manufacturers. Identification tasks become increasingly demanding and the industry's regulations are getting stricter, such as currently shown by the FDA's (Food and Drug Association) UDI (Unique Device Identification) directive. However, manufacturers of marking systems and identification solutions take up the various challenges and multifaceted requirements and develop reliable solutions for medical device marking. Solutions that not only ensure the proper marking of all medical products but are also capable of improving medical device producers' process reliability and efficiency.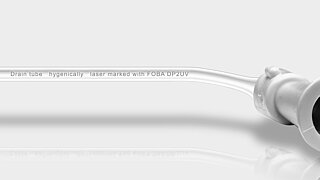 Identification of Medical Products:
Regulations and Requirements
Usually, medical devices are marked at the end of the production process; sometimes marking is the final step in the process chain. At this late stage of manufacture, product scrap caused by mis-markings, incomplete markings or incorrect markings is extremely costly. If mark errors can be corrected, they are very costly to correct; if they can't be corrected, the device itself is scrap.

Most often, medical devices come in many shapes and sizes. Some parts require very small marking contents, others very large marks. Also, the information contained can vary from part to part, batch to batch or lot to lot. Medical device manufacturers are trying to achieve zero defect marking in order to eliminate mark defects due to fixturing problems, operator errors, and other random defects. That is why it is essential to control the marking process at the work cell level to prevent bad marks from being placed on the part, correct marks from being placed on the wrong part, or making marks that do not survive the manufacturing process (cleaning, sterilization, post mark passivation, for instance).
Medical Device Manufacturers Mark for Their Customers
That means that they also have to guarantee that the marks on their parts are permanent in order to be completely readable and traceable all along their life-cycle: from the manufacturing site where the device was produced to the operating room where the device is used or implanted on a patient. Medical manufacturers have to ensure that the correct information is marked on the correct part in the right location and that this identifying information is legible at any time. All marks have to meet accuracy specifications; badly marked parts must never make their way to the patient.
The Solution
You'd like to know how to solve these challenges? Download the whole document now!