Glass Laser Engraving, Etching and Marking of Glass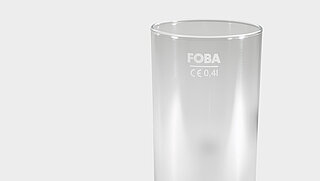 Laser engraved drinking glass
Laser engraving using a CO2 laser marker on a drinking glass. This application is typically used for the manufacture of glass wares for the gastronomy and housekeeping sectors. Typical marking contents are company logos or sparkling marks as well as calibration marks.
Laser engraved drinking glasses with brand logos
Kristall-Glasfabrik Amberg, a German glass manufacturer, uses FOBA CO2 laser markers for engraving different brand names on the foot of a glass.
UV-laser marking on glass
UV-laser marking is especially appropriate for sensitive materials like silicone, because surface structures are only slightly affected. At the same time, its short wavelengths enable excellent marking results. Even for microtext (text height under 0.1 mm) a UV-laser can attain a line width of under 10 µm.
On glass, a UV-laser can also provide filigree and brilliant marks of high quality. Drinking glasses or crystal watches keep their smooth surfaces, as a UV-laser produces micro cracks of much smaller dimensions as compared to for example a CO2-laser.