Blog
FAQ on UDI, Part 2: How to Mark UDI Compliant Codes Reliably
Since the Food & Drug Administration (FDA) announced the upcoming implementation of obligatory Unique Device Identification (UDI) marking for medical devices, manufacturers have been searching for feasible and economic marking solutions.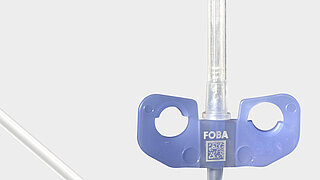 The regulatory process – started in September 2014 and ending in 2020 – requires that medical devices need to be equipped with a unique product number and Datamatrix code to ensure their traceability throughout the product life cycle. Read more about the background of UDI in the article "FAQ on UDI, part 1: Facts about the Unique Device Identification Directive".
By 2020, all manufacturers of medical devices will have to comply with UDI marking requirement. Finding a suitable marking solution does not only require additional workforce in the first instance, but also extra costs. Manufacturers need to make a decision either to buy their own marking system or to task a successful tenderer.
Is laser marking suitable for marking UDI codes?
For the requirement of direct part marking, laser marking, especially on plastic and metallic devices, appears to be the only technology that is able to pass passivation processes while guaranteeing long-lasting marks that can resist high wear and abrasion as well as frequent sterilization cycles. In order to meet the labeling requirements, laser markings must be of high contrast, precise, long lasting, able to fit into small spaces and must not affect the surface finish of the device negatively. How fiber laser markers create corrosion-resistant markings on medical products, is shown in a representative study about "Laser marking of reusable surgical instruments mastering multi-process requirements".
As the marking takes place at the end of the production cycle, scrap must be kept to a minimum and repeatable results and process stability are imperative. For a reliable identification, vision-based laser marking has become the chosen technology: It enables both a safe marking as well as a lean production.
How vision-based laser marking helps to mark UDI codes reliably and efficiently
A vision-based laser marking workflow, like HELP (Holistic Enhanced Laser Process), helps facilitate and streamline the marking process. An integrated camera ensures process reliability before, during and after laser marking. HELP is a three-staged closed-loop medical device marking process. Prior to marking, the right parts are validated, then the marking position is automatically aligned with the part so that only the correct mark will be applied in the correct position. Finally, the integrated vision also verifies the marked contents. Utilizing this approach, scrap due to marking errors can be reduced by up to 80 percent.
Although many manufacturers are requested to implement several essential modifications in their production process, one can assume that the traceability of medical devices will pay off in the end. Not only for the safety of patients, but also for streamlining the companies' manufacturing and logistics supply chain. Laser marking with integrated vision appears to be a sustainable and economic solution in response to the actual marking requirements.
FDA compliance dates: Which products have to be marked with a UDI code as from when?
Where and when a UDI code has to be applied to a product depends on its risk class and intended use. The UDI system differentiates between the marking of the packaging of labels and direct marking on the product. If the product is reused and/or reprocessed before each use, the UDI marks need to be directly applied on the device. The last deadline for the marking of packaging and labels will be reached in 2018. At that point, the packaging and labels of all class I – III products must carry a UDI code in plain text and machine-readable form, using automatic identification and data collection (AIDC) technology.
The FDA has defined three risk classes, based on the degree of control needed to guarantee the safety and effective use of the products.
Class I (low risk, general controls): e.g. bandages, stethoscopes, surgical scissors, dental floss, mechanical wheelchairs.
Class II (moderate risk, general and specific controls): e.g. infusion pumps, surgical sutures, bone screws, syringes, condoms, powered wheelchairs.
Class III (high risk, general controls and premarket approval, life-saving and life-sustaining): e.g. heart valves, knee prosthesis, pacemakers, automated external defibrillators.
The UDI marking compliance deadlines are phased in stages based on product risk classifications. Codes must be applied on labels and packages or on the product itself (Direct Part Marking DPM). According to the FDA, DPM is required for implants and devices intended to be reprocessed or reused over an extended period of time (several months or years). The permanent marking is required as it is expected that such devices will be separated from their original packages.
The compliance deadlines of the FDA regarding Direct Part Marking (for devices that are intended to be used more than once and intended to be reprocessed before each use) are as follows:
2015: Implantable, life-saving, life-sustaining products.
2016: Class III products.
2018: Class II products.
2020: Class I products.
(Visit the FDA-website for more details and latest information.)
A directly marked UDI code is only required if the corresponding products are processed, for example cleaned, sterilized or passivated, before their use. Even products that do not necessarily have to bear a directly marked code (like sterile packaged implants for single use) get marked for functional reasons and fraud prevention.