Industry Solutions Laser Marking and Laser Engraving in the Automobile Industry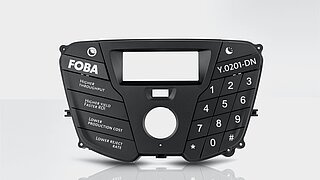 Laser marked data-matrix code on automotive parts
Integrated in an automatic assembly line a fiber laser (DP30F) marks the dual mass flywheels (ZF Friedrichshafen AG) and the integrated vision system checks if the applied Data-matrix code is clearly legible. The laser-marked code contains for example serial and lot numbers, date of manufacture and further information. Laser, vision system, software and handling system are integrated into the production line in order to achieve high production efficiency.

Lasers mark codes and many other contents on nearly every material used in the automotive industries reliably and with high quality. The integrated vision system ensures precise positioning, accurate identification and high economic efficiency.
Venting valve for fuel tank systems with traceability code
One of the major challenges in the automotive industries is to track safety-critical components completely and clearly while maintaining the efficiency of production. An effective solution for marking plastic components is the melted engraving by CO2 laser marking systems: It ensures permanent and perfectly machine-readable laser marking, such as alphanumeric codes of highest quality applied in minimal processing time.
Ultra high contrast marking on metal
Complex structures of a substrate – such as on castings in the automotive sector – may complicate the readability of the applied codes due to shadows in varying lighting conditions and therefore poor contrasts. An optimized black/white marking results in a much better readability. High contrast can be created by marking black codes in the metal and additionally whitening the peripheral areas as well as the in-between spaces.
Laser marking automobile construction: Traceability code
High readability of Data-Matrix-Codes is indispensable for identification, traceability and quality assurance of parts in the automotive industries. The permanent mark on this door lock housing is applied by color change marking. Due to the high contrast the marking contents can be read and inspected reliably, which is essential for improved product and processing quality.
Molded part for automobile construction
Direct marking of a molded part for automobile construction. The marking is applied as a high-contrast color change. The marking contents (2D code, alphanumeric characters) are useful when it comes to component identification, traceability and quality assurance.
Laser-engraved plastic component for automobile construction
The permanent laser mark, which has the same characteristics as the plastic on which it is applied, cannot be removed with things like solvents and enables defect-free tracking for several years.
In this case, the marking is purely technical and only needs to be legible - the contrast ratio is irrelevant.
Ball bearings
The traceable black marking on the ball bearing made of sulfur-free steel was applied with the help of a pulsed fiber laser marker.
The advantage of the laser-aided marking process is its economic efficiency: Even oiled parts can be marked. The previous cleaning that is required during etching is not required in case of laser marking. Subsequent oiling is also not required as the oiled parts are marked directly. The laser marking thus reduces the processing steps and increases the production efficiency.
Day/night design switches that can be used to open a trunk's lid
The day/night design marking was created through a sophisticated coating layer removal process. The individual color or coating layers were removed with a high degree of precision, in order to ensure that the basic material to be backlit became visible. The adjustment to different coating layers and colors is implemented via application-specific parameters that are easy to adjust.
Thanks to the laser marking process, ever-smaller batch sizes are economically feasible. An injection mold can be used for the most diverse switches or control elements. The individualization of the components is carried out with the laser, whereby various symbols and pictograms can be imprinted. The low tool costs associated with high volumes and the high flexibility with regard to the marking contents make the process of laser marking very effective.
Nylon fuel line (polyamide)
Automobile fuel lines must last for as long as the car does. That also applies to the markings that they carry. Our laser markers set these resistant and long-lasting symbols.
The polyamide fuel pipes must be able to withstand quite a bit, sustain a lot and satisfy the automobile industry's quality standards. These standards mandate complete traceability, reliability as well as production and assembling safety. That's why so many manufacturers turn to lasers for their marking needs: laser markings are permanent, resistant, tamper-proof and, thanks to the high quality of the markings, always legible and traceable. Consequently, the marked components can even satisfy the enhanced design-related requirements that are now placed on automobile components.
High grade steel pressure pipe for natural gas vehicle
High-grade steel pipe with resistant annealing marking (component number and 2D code) for secure traceability and quality assurance.
Temperature sensor
Laser marking causes a slightly noticeable color change on the plastic housing of the temperature sensor. Sensors such as this one are used for measuring and regulating temperature in cars. Such components and the markings on them must be able to withstand high temperatures, humidity levels and pressures as well as external influences such as oils and fuels. Laser markings are resistant and permanent and this makes the laser marking an ideally suitable marking procedures.