Vision Systems

Marking Process HELP

HELP (Holistic Enhanced Laser Process) is the simplest and most comprehensive laser marking process on the market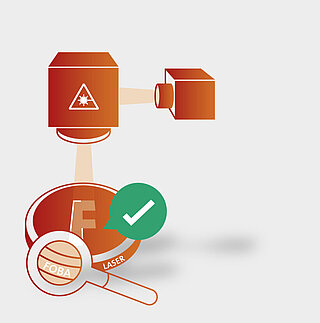 Overview
HELP (Holistic Enhanced Laser Process): A 360° laser marking process
In addition to marking itself, FOBA offers HELP, the most comprehensive process solution for direct part marking on the market. HELP combines FOBA's camera systems (IMP and Point & Shoot) with MOSAIC to create a unique workflow that does not require product fixtures and includes part and mark inspection before and after laser marking. Systemic and operator-caused errors are thus avoided, and laser-marked content is checked while still in the marker directly after marking. This is not only relevant for companies with stringent quality requirements, but for anyone who values less scrap and faster production.
HELP in three stages
Laser marking with validation prior and right after marking eliminates potential marking errors
Laser marking with validation prior and right after marking eliminates potential marking errors
1: Pre-mark verification
Part validation:
Validates correct part and prevents marking of wrong or defective parts.
Pre-mark verification:
Confirms that only unmarked parts are being processed.
Mark alignment:
Aligns the mark relative to the position of the part.
2: Laser marking (product identification)
3: Post-mark verification
Mark verification:
Validates that marks have been placed correctly (positioning, alignment, size).
Optical Character Verification (OCV):
Validates that every character marked by the laser matches the expected content.
2D code validation and code reading:
Reads the contents of 1D and 2D codes (Datamatrix, e.g. ECC 200, GS1; QR) and compares the results to the expected content. A classification of the code into quality classes is possible.
The HELP workflow includes...
... in general
Marking without product support with MOSAIC to reduce manufacturing costs
Job setup with patented autofocus tool
Full integration with FOBA's Advanced Operator Plugin (AOP) with traceability of the marking process
Combination of camera and axis movement for precise marking of large components (patented Multi-Model Registration)
... before marking
Verification that products to be processed have not yet been labeled.
Confirmation that the product to be processed is the correct one
Alignment of marking content - either automatically (with FOBA's IMP camera system) or manually (with FOBA's Point & Shoot camera system)
Immediately apply the correct marking with the Laser Parameter Expert
... directly after the marking
Checking of marking positioning with regard to compliance with tolerances
Reading back of marking contents: Validation using Optical Character Recognition (OCV).
Code quality verification (1D/2D codes): 1) confirms code content and 2) verifies that code quality is consistent from product to product
Logging of images and inspection results to monitor manufacturing processes
Consistent quality marking
Testing before and after machining
Full traceability and compliance with regulations
Consistent premium-quality markings
Fast ROI
low set-up costs
reduced scrap costs
lower integration costs
hardly any set-up costs
More efficiency and flexibility in production
Automatic mark alignment, laser-aided processing and verification
Validation of laser marking directly in the marking device reduces handling times
Reproducible, stable processes
Camera-based marking process prevents marking errors and reduces product waste
Marking process with camera support
Mark, read and check codes
Readback of marked content: Validation via Optical Character Recognition (OCV)
Main fields of application HELP
Ideally suited for the reliable production, especially with regard to the
medical device industry
aerospace
automobile
electronics industries
construction of tools, machines and metals.
16

Show all images