News
How to facilitate laser marking integration and set-up – FOBA Webinar on June 16, 2022
"Ready to go": FOBA Laser Marking + Engraving is hosting a webinar on June 16, 2022, at 9 a.m. CT (4 p.m. CEST), intended for manufacturers who plan to integrate laser marking into production environments with limited space.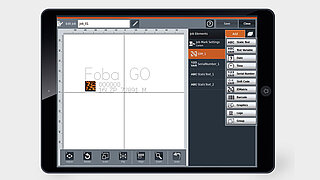 The presenters of the webinar are Philipp Febel, Director Product Management, and Jeff Kniptash, Regional Sales Leader Americas. FOBA's laser marking experts will demonstrate which hardware properties enable flexible installation, and which features make a marking software easy to use and comfortable to apply.
Webinar attendees will learn why the smallest available laser marking head on the market is built to fit into any manufacturing line or plant and how the set-up works practically. With the aim of providing best possible economic efficiency of the laser marking process, FOBA also has developed a software solution called FOBA Go. This user interface is browser-based and can be operated even from mobile devices.
Webinar participation is free of charge; registration is required online (please click here) or via e-mail to info@fobalaser.com
FOBA Laser Marking + Engraving
www.fobalaser.com/