Industry Solutions Laser Processing in Tool & Mold Construction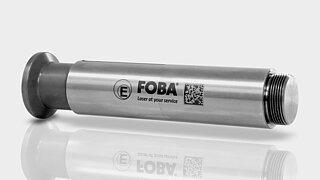 Ejector pins made of high-grade steel
The Eberhard ejector pins are provided with resistant and durable laser-aided annealing markings.

The advantage of this laser marking process is its economic efficiency: The previous cleaning that is required during etching is not required in case of laser marking. Subsequent oiling not required either as the oiled parts are marked directly. Laser marking thus reduces processing steps and increases production efficiency.

Marking time of rear pin: 1.28 min for text, 50 s for DMC
Marking time of front pin: 3.54 min
Dishwasher part
Laser marking and laser engraving is widely used when marks such as company or manufacturer logo types, type numbers or codes have to be applied safely and durable. Also the displayed part that can be found in products like dishwashers this identification procedure was used - not least because high demands regarding corrosion resistance had to be met. Machine components like these can either be directly laser marked or laser engraved, or the tools or molds for the production of these
High-speed laser marking on aluminium can lids
FOBA's Y-series laser marking systems can easily be integrated into high-speed production lines. This allows for maintaining the required throughput speed for large batch products such as beverage cans.
Chinese can lid manufacturer Transhell provides leading beverage labels worldwide with can lids and uses a FOBA marking system to apply QR-codes and characters
Ultra high contrast marking on metal
Complex structures of a substrate – such as on castings in the automotive sector – may complicate the readability of the applied codes due to shadows in varying lighting conditions and therefore poor contrasts. An optimized black/white marking results in a much better readability. High contrast can be created by marking black codes in the metal and additionally whitening the peripheral areas as well as the in-between spaces.
Surface structuring in tool and mold construction
Laser engraving is ideally suited for the purpose of structuring surfaces in tool and mold making. (Micro) structures and textures are engraved in order to create haptic and visual effects, for example on embossing tools or dies. A fiber laser was used to engrave the brass with various structures (honeycombs, stars, waves, circles etc.).
Material: brass
Laser marker: 20 Watt fiber laser
Engraving depth: 0,34 mm