Blog – Application of the Month UDI Laser Marking on Plastic Products –
Safety First for the Medical Part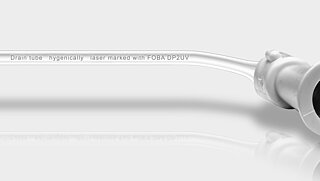 In order to increase patient safety, reusable medical parts must be provided with a UDI code (UDI - Unique Device Identification) which remains permanently legible even with heavy use and frequent cleaning. But also beyond legal requirements, manufacturers and users employ part markings for a reliable traceability. That's why UDI codes or other labels can be found on almost all instruments, devices and accessories in medical technology.
Diverse fiber or UV lasers are available for marking, depending on the type and colour of the plastic substrate. The appropriate technology, by using a colour change, foaming or material removal process, creates marks that are rich in contrast and biocompatible. A directly applied laser mark is also permanently resistant and thus contributes to the protection against counterfeiting of the product.