Behind the scenes: How did the idea for the smallest laser in the world come about? – or in other words: This is the best solution for line integration challenges with marking lasers on the market.
Based on our decades of experience, our focus is to develop solutions for the industry which will master every challenge. Whether it is our special solution for the medical market to ensure safe and easy UDI-Marking with maximum efficiency, or development of the smallest laser head in the world. Our solutions are always based on close cooperation with the industry. Through targeted surveys and the close cooperation with our customers, certain challenges with line integration have repeatedly been noticed. Our development and product departments did an amazing job by solving these challenges.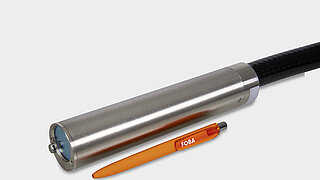 Marking laser out of the box.
There are reasons why existing laser systems are what they are in terms of size and weight. But that didn't stop our development department. They completely rethought the Art of laser construction. They did nothing less than get the laser out of the box. The result is a laser marking head that is in fact completely different from anything currently available on the market. A marking laser out of the box, with the smallest laser marking head in the world and a few more impressive features, that make laser marking easier and more efficient than ever. "Out of the box" can in this case even be taken literally, because Titus ™ is so small, that our sales engineers will bring it in a handy box for demonstration purposes for consultations with customers. Hard to believe, but true!
What are the biggest challenges when integrating laser marking systems into production lines and how does Titus™ solve them?
Challenge and its solution No. 1: high effort in mechanical integration
One of the biggest challenges in line integration is that the size and weight of previous laser systems require a lot of space and the integration is usually time-consuming and cost-intensive. Many manufacturers have so far resorted to other marking systems. These are easier to integrate due to their smaller size, such as CIJ (Continuous Inkjet), although they incur higher fixed costs in the long term due, to shorter maintenance intervals and a large need for consumables.
But Titus ™ is so small, that many people think that it is a CIJ, when they see it for the very first time. And Titus ™ is not only small, it is also easy to integrate. And of course, it is also simple to align, to relocate or to exchange, if this is necessary, due to changes in the production line for example.
Our development department has succeeded, in developing this laser marking head, that it is up to 90% smaller and lighter than current products on the market. This opens new areas of application, particularly for the automotive, aerospace and electronics industries, for fast, direct marking of every workpiece with laser. But simply reducing the size and weight was not enough for our laser experts – they also gave Titus ™ many innovative features. For example, quick clamps for laser head integration, which make changing or replacing very easy.
Challenge and its solution No. 2: elaborate installation and setup
But integration is not just about assembly or mechanical integration. Installation and order setup must also be straightforward and user-friendly. Here too, Titus ™ brings a solution in the form of innovative features. Thanks to the small components and fewer brackets, installation is up to 90% faster. Of course, easy-to-use user interfaces for quick order setup should not be missing. In addition, an integrated focus finder was installed, this enables extremely fast focus determination during the laser and job setup. The pilot laser simulates marking content.
Challenge and its solution No. 3: flexibility in integration and easy usability
Production lines are often complex and must cover a wide variety of requirements. It was clear to our laser experts from the outset, if we want to develop a laser marking head that can solve the biggest challenges in part marking and can provide greater scope for integration, throughputs and savings, it must also offer the greatest possible flexibility.
Therefore, the marking head is available with straight (0 °) and angled (90 °) beam exit, which enables different integration options. The 3 m or 10 m fiber umbilical also contributes to the high flexibility. Ten meters umbilicals are an absolute market novelty for fiber lasers and enable installations, in which the marking head and supply unit can be placed far apart. The smaller working distances result in even more flexibility, so that the laser protection is also smaller.
But even after the integration or installation, it must remain simple, namely when it comes to operation. For Titus™ there is a choice between three user interfaces that can be optimally operated and controlled: FOBA's MarkUS GUI enables customer-specific interfaces. FOBA Go offers maximum flexibility, thanks to the laser remote control function, useable with various devices. In addition to FOBA Go, FOBA Draw is also available for moving applications (MOTF). Thanks to a wide range of communication interfaces (TCP / IP, PROFINET, EtherNet / IP; in future also EtherCAT and OPC UA), the connection to customer software is as flexible as possible.
Challenge and its solution No. 4: harsh manufacturing environments
Dirt and grime are often a challenge, especially in production lines, and is often a challenge for laser marking systems. In order to protect sensitive systems from dust and other influences, for example, marking head protective housings are required in harsh production environments, in addition to laser protection class 1 – but not with Titus ™: the marking head and fiber cable have protection classes IP65, IP69. With the dust-protected lens, a constant air flow holds the optics free of dust, making daily cleaning routines a thing of the past!
Challenge No. 5 and its solution: high expenditure for maintenance and service
Marking systems are often very maintenance-intensive and there are additional costs for services. In addition, there are production downtimes due to maintenance and service. Of course, our development department also thought about this. Thanks to only a few wear parts, Titus ™ is almost maintenance-free, the quick clamps help with quick and easy marking head alignment and repositioning, the focus finder for quick focus determination.
Titus ™: the little one that offers so much more
Our developers and product managers have done a great job. The smallest vector scanning laser marking head not only guarantees a simple, quick and error-free laser installation and job setup. It also guarantees a quick and easy service and product change, in case of a change in production lines, OEM machines and complex manufacturing systems. And in addition to all this flexibility and simplification, it of course also offers the best marking quality on a wide variety of materials, including plastics and metals. Depending on the material, Titus ™ can mark with up to 2,000 characters per second.